Kana Reminder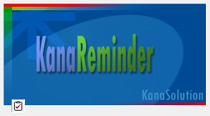 Reminders list shows some reminder entries in sky blue color
Question:
The reminders list shows some reminder entries in sky blue color, some in red color, and some in regular color. What does it mean?
Answer:
The meaning of the color on the list is:
The sky blue color means that the triggered time of the associated reminder passes its setting time. See this FAQ also.
The red color means that the reminder is currently in triggered state. If you select the reminder on the list, the edit, copy, delete, and run now buttons is disabled.
Get more information by using Google search
Custom Search
A

A

A
Last updated: Thursday, November 11, 2010 10:30 pm