Kana Reminder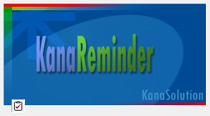 Triggered reminder shows the sky blue color
Question:
My triggered reminder shows the sky blue color on its bar (the bar which displays reminder type). What does it mean?
Answer:
That means the reminder was triggered pass of its setting time. That's a reminder that you need to take caution of whatever the action taken by the reminder is.
This usually happens when you start your computer. To avoid this, you can set the reminder to ignore the overdue from its options page. If you want to set all reminders to ignore the overdue, please see this FAQ.
Note: The blue sky color is also displayed on the reminder list.
Get more information by using Google search
Custom Search
A

A

A
Last updated: Thursday, November 11, 2010 10:29 pm