Kana Reminder
Latest version: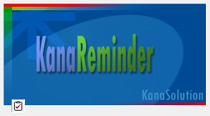 Kana Reminder Add/Edit Window
Image Description:
This image displays the Add/edit Reminder window.
In version 2, the length of reminder text is unlimited.
When the text entered is an URL, it will be displayed in different color, and when you click the URL, your default browser will be launched and the URL will be browsed.
Version 2 also introduces many new predefined reminder types. In addition, you can also create customized reminder type.
Image Properties:
Attachment MIME type: image/png
Get more information by using Google search
Custom Search
A

A

A
Top Donators
David Campbell

($100.00)

Michael Gibson

($50.00)

Gary Lingner

($40.00)
Donate
Recent Comments